Media Blasting for Log Home Restoration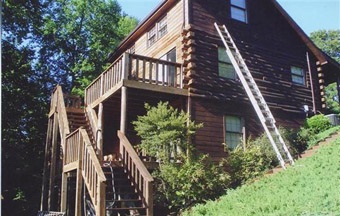 Taskmasters Wood Maintenance is also the local leading expert when it comes to media blasting services in North Carolina, South Carolina and Virginia. This is an effective technique, but must be executed by a trained and experienced industry expert. Do not make the mistake of entrusting just any home improvement or home restoration contractor with this type of work.
Media blasting is like sand blasting, although it may employ different media than sand. The concept is the same; a system using compressed air pushes media through a hose nozzle in order to clean a particular surface. This is ideal for removing a coating, dirt or another material from a surface.
The type of surface being cleaned and the type of substance being removed plays a large role in the media being used. Only a true industry expert will be able to help determine this, making it another reason to work with only a reputable and established professional. Get in touch with us today to set up a time for your media blasting or to find out more about what this service has to offer you.
Finest in Media Blasting Services
When it comes to log home restoration, media blasting can be one of the most beneficial tools to use to help with renovation and improvements. The point is to try to remove the surface coating, while not disturbing the substrate. Some popular media choices for log home restoration are glass beads, crushed glass or crushed corn cobs.
This is a popular choice for cleaning the surface of delicate materials like glass, vinyl or aluminum. Other methods of cleaning or restoring these materials can prove worthless or harmful.
The media used can be reused, making it a more environmentally responsible alternative. Once used, it can be sifted through, much of it still reusable, until it is completely spent.
Glass is not the ideal choice to use on wood, but partnering with a reputable and established log home restoration expert will help prevent mishaps. Our experts know what media work with what surface material. This is the type of work that we have been doing for close to two decades now.
Let Taskmasters Wood Maintenance Address Your Media Blasting Needs
The bottom line is that media blasting can be a highly effective cleaning and restoration method. However, make it a point to only let a highly trained and experienced pro handle the task for you.
Taskmasters Wood Maintenance is the name that you can rely on for a variety of important home improvement services, including media blasting. We look forward to having the opportunity to work with you and provide you with the superior results that you deserve.
If you are looking for a reliable company you can count on for proper media blasting in North Carolina, South Carolina or Virginia, please call 252-266-9457 or complete our online request form.
Recent Articles
Important Dock Cleaning and Care Tips For North Carolina Homeowners - Boat docks are very common in North Carolina since so many homeowners have waterfront properties they want to enjoy to the fullest. Along with access to the water and the fun they can provide a North Carolina family, comes the responsibility of handling the dock cleaning and care in order to keep the structures sturdy, safe, and sound … Read More
Log Home Maintenance Tips For Summer - Your beloved log home will last for what seems like forever, but making sure the maintenance gets done this summer will help you to avoid problems like UV ray damage, insects, and water damage. While some maintenance tasks are better left to a ==log home maintenance professional, there are plenty of things you can do yourself to preserve and protect the wood exterior … Read More