About Our North Carolina Log Home Restoration Company, Taskmasters Wood Maintenance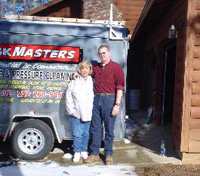 Taskmasters Wood Maintenance is a family owned and operated business, serving North Carolina as well as South Carolina and Virginia. We offer the best in wood restoration, pressure washing and other exterior improvement services, for both residential and commercial structures. As an independent mobile company, we take great pride in being able to provide our clients with topnotch workmanship and superior results. You can rely on our North Carolina log home restoration company for a variety of services, and rest assured we put quality workmanship into every project.
Our company was founded due toe plan and simple fact that finding dependable, reputable and quality professionals to address this type of service was next to impossible. We didn't want to just be able to address our need for this type of service work, we wanted to be able to extend it out to other home and business owners. So when we say that we care as much about your home or business and the workmanship invested into it, we genuinely mean it.
We will schedule your cleaning, restoration or other related services at a time that works for you. We want to be able to accommodate your schedule and service needs, without disrupting your personal or professional life, when at all possible. Let our extensive history and background in this industry help to provide you with the service that you need and the exceptional results that you deserve. Give our North Carolina log home restoration and wood maintenance company a call today to get started.
How It All Started
In January of 2000, my wife and I bought a "fixer-upper" log home. After a long and arduous renovation that included adding a two-car garage, closing in a deck and transplanting all the shrubbery from the yard of our previously flooded home ( from hurricane Floyd in 1999), we finally moved in. We learned a lot from our research and "hands-on" experience while working on our dream home. Little did we know at the time that we were about to embark on a new way of life.
With my background in boat building, outfitting and re-finishing that dates back to working with my grandfather in his boatyard in the early 70's, woodworking, custom painting and staining comes naturally.
Through the years, family and friends encouraged us to start our own business, a handyman type service, but I was never convinced that there was enough work to provide a comfortable living. Well, not long after we finished our restoration, one day the phone rang and I was asked if I would be interested in "painting" a log home and doing some repairs. So we discussed the project with the owner and convinced her to stain rather than paint the 1960's HICKORY log home. A little nervous about working on other people's homes, the work was completed. The homeowner was amazed at the outcome. And I'll have to say, I was too. It looked like a different house. We could hardly (me, my wife and the homeowner) believe the difference.
This lead to her neighbor asking if we could restore her deck. Now we had finished two restoration projects. My confidence was building.
We soon realized the need for not only a wood restoration provider, but also a need for a general pressure cleaning service that could and would take the time to perform the work properly. We have all heard of the horror stories about damaged wood, siding, windows etc….You know, the 2 hour SPLASH & DASH house wash?
Well Taskmasters Wood Maintenance was born! We took the "PLUNGE"! We started out doing anything and everything to fill the days. From painting to minor plumbing repairs to rot repair to house washing. Whatever it took! (Hence the name Taskmasters Wood Maintenance). We soon found our niche in the wood restoration and pressure cleaning aspects of the business. Our work now consists of about 80% log and deck restoration and the remaining 20% residential and commercial pressure cleaning.
I will be the first to say that I could not do this without my wife! She can do it all. Maybe not the heavy work (that's my job) but the details, there's none better! Not only is she on the job, hot days or cold, rain or shine, she is that pretty voice on the phone that says…."Thank you for calling Taskmasters Wood Maintenance". She also does all the ordering, pick ups and everything in between and then goes home and cooks dinner most of the time. (Yes I do take her out to eat and she chooses the restaurant.) As good as she is on the exterior; she should really be doing interior decorating with her country flair. She just has that touch and is very good. If you need interior design (log home style), ask to see some pictures of our home. She is more than happy to show it off.
My wife and I both love our work and take much pride in the final results. We really are not satisfied until the customer is satisfied. We mean this. If we can not do the job to your satisfaction, you owe us nothing. THAT IS OUR PROMISE!
Services Our Company Offers:
Recent Articles
Important Dock Cleaning and Care Tips For North Carolina Homeowners - Boat docks are very common in North Carolina since so many homeowners have waterfront properties they want to enjoy to the fullest. Along with access to the water and the fun they can provide a North Carolina family, comes the responsibility of handling the dock cleaning and care in order to keep the structures sturdy, safe, and sound … Read More
Log Home Maintenance Tips For Summer - Your beloved log home will last for what seems like forever, but making sure the maintenance gets done this summer will help you to avoid problems like UV ray damage, insects, and water damage. While some maintenance tasks are better left to a ==log home maintenance professional, there are plenty of things you can do yourself to preserve and protect the wood exterior … Read More
If you would like to know more about our North Carolina log home restoration company, please call 252-266-9457 or complete our online request form.