Professional Log Home Restoration Contractor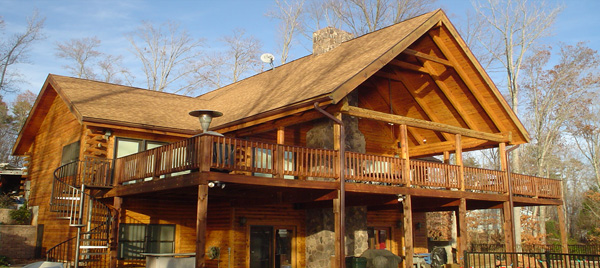 Taskmasters Wood Maintenance is proud to be the premier service provider for log home restoration in the South. Having the opportunity to reside in a log home, full time or even as a secondary vacation home, is like living the American dream. Aside from the natural wood smell, it is knowing that you are part of a tradition and lifestyle that has been around for generations.
Log homes have come a long way in the past few years, making it possible to have all the modern amenities available while retaining that rural charm. For some die hard log cabin owners, however, the more rustic the better. Either way, at some point, in order to keep living that American dream, you are going to need expert log cabin wood restoration work.
This is where we come in. Taskmasters has the skill, experience and expertise required to revitalize and restore your log cabin to its original condition, if not better. Whether the work is for the place you call home, or a charming rental investment property, you can rest assured that the results we offer for log home restorations in North Carolina, South Carolina and Virginia are unsurpassed.
Finest in Quality Log Home Restorations in North Carolina, South Carolina & Virginia
Why it is so important to partner with industry experts to maintain your log home:
It can be easy to lose sight of the current regulations required for maintaining a log home. By entrusting a licensed professional, you no longer have to worry about the uncertainty of specific guidelines and restrictions.
Even those handy do-it-yourselfers can end up in over their head trying to tackle many restoration projects. It is better to leave it to the professionals and feel confident that any of the tasks that need to be done, will be carried out correctly.
It is always a much safer alternative to let an industry expert address wood restoration services. Whether the work requires a ladder, involves electrical work or some other potentially hazardous chore, it would be better left to a log cabin restoration expert.
The bottom line is that there is a very good chance that one or more problems exist that you are not even aware of yet. The trick is to make sure that these issues are identified and rectified. Avoid getting in over your head and let our log home restoration pros handle the task for you.
Let Taskmasters Wood Maintenance Address Your Log Home Restoration Needs
When you find yourself in need of a professional to work with for your log home restoration, know that you can count on Taskmasters Wood Maintenance. With well over a decade of expertise behind us, we can guarantee you the best in overall final results. Don't delay, call us today.
If you are looking for a reliable company you can count on for superior log home restoration in North Carolina, South Carolina or Virginia, please call 252-266-9457 or complete our online request form.
Recent Articles
Important Dock Cleaning and Care Tips For North Carolina Homeowners - Boat docks are very common in North Carolina since so many homeowners have waterfront properties they want to enjoy to the fullest. Along with access to the water and the fun they can provide a North Carolina family, comes the responsibility of handling the dock cleaning and care in order to keep the structures sturdy, safe, and sound … Read More
Log Home Maintenance Tips For Summer - Your beloved log home will last for what seems like forever, but making sure the maintenance gets done this summer will help you to avoid problems like UV ray damage, insects, and water damage. While some maintenance tasks are better left to a ==log home maintenance professional, there are plenty of things you can do yourself to preserve and protect the wood exterior … Read More