Commercial Cleaning Services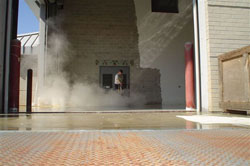 At Taskmasters Wood Maintenance, we have also become widely regarded for our high quality commercial cleaning services in North Carolina, South Carolina and Virginia. We offer a full line of exterior cleaning services for commercial and industrial clients. The services that we offer are available for regularly scheduled maintenance 24 hours a day and 6 days a week (Sunday is our day of rest).
We have been earning our impeccable reputation as a log home restoration and exterior cleaning company since first starting over a decade ago. We work with a variety of different types of businesses, offering a vast assortment of exterior cleaning work. You can always feel confident knowing that the work we carry out will be done so in a prompt and professional manner.
Plus, we will address your exterior cleaning service needs efficiently and effectively. The outside of your building says a lot about you as a company and about your brand. Make sure that you are making the impression that you want by letting us help keep that exterior looking its absolute best.
Finest in Commercial Cleaning in North Carolina, South Carolina & Virginia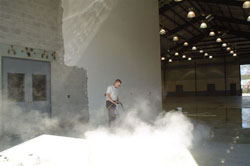 Some of the services that we are able to provide for commercial cleaning customers include:
Exterior Building Clean – Let us use our pressure washing and soft wash techniques to help revitalize the outside of your building. This will help to remove mildew, mold, dirt and other unwanted environmental contaminants. Make a great first impression on your prospective clients by keeping the outside of your business looking immaculate.
Storefronts, Sidewalks & Drive-Thrus – Over time, these areas of your business are bound to get dirty, collecting materials like oil, gum, stains, graffiti and more. Not only does this make your business look unappealing, it can lead to safety and health concerns. Our job is to help you rid your exterior spaces of this unwanted matter with professional pressure washing and cleaning services.
Brick & Stone Restoration – Having brick or stone for the exterior of your business can make it look alluring and certainly helps make a strong statement about who you are as a company. However, if these materials have become rundown or are in need of cleaning and repairs, you need to act on this. Let us address this service for you so that you can salvage your brick or stone.
Let Taskmasters Wood Maintenance Address Your Commercial Cleaning Needs
Taskmasters Wood Maintenance is accustomed to dealing with the need to clean up general dirt, rust stains, algae as well as years of neglect, weathering and other environmental conditions. Let us help you restore the exterior of your business with our exceptional commercial cleaning services, including power washing. We take great pride in the work that we do and in the results that we are able to provide for our clients.
If you are looking for a reliable company you can count on for superior commercial cleaning services in North Carolina, South Carolina or Virginia, please call 252-266-9457 or complete our online request form.
Recent Articles
Important Dock Cleaning and Care Tips For North Carolina Homeowners - Boat docks are very common in North Carolina since so many homeowners have waterfront properties they want to enjoy to the fullest. Along with access to the water and the fun they can provide a North Carolina family, comes the responsibility of handling the dock cleaning and care in order to keep the structures sturdy, safe, and sound … Read More
Log Home Maintenance Tips For Summer - Your beloved log home will last for what seems like forever, but making sure the maintenance gets done this summer will help you to avoid problems like UV ray damage, insects, and water damage. While some maintenance tasks are better left to a ==log home maintenance professional, there are plenty of things you can do yourself to preserve and protect the wood exterior … Read More