Boone Log Home Restoration Services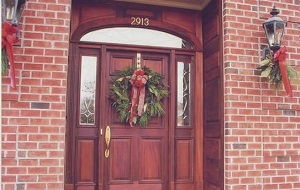 Nothing is quite as alluring as the rustic charm of a log cabin, which is why you need an industry expert for your Boone log home restoration service needs. For both residential and commercial service needs, the only name that you need to know is Taskmasters Wood Maintenance. We take great pride in all the work that we do, as well as take this line of work seriously.
We are an independent mobile business that is family owned and operated, and we specialize in North Carolina log home restoration. So, that makes us dedicated to ensuring that the results we provide for each customer is topnotch quality. There is no reason to ever settle for less than the best, especially when it comes to restoring your log home.
Whether you have had this property in your family for generations or it is newly acquired, either way the work invested into it should be nothing but the finest. We will help you retain that rustic charm while implementing modern comforts, unless you would prefer to keep it primitive.
Home Restoration Experts in the Boone Area
Being the number one log home restoration and exterior cleaning experts in the area means offering a variety of important high quality services. Some of the residential and commercial tasks we can take care of for you include:
Soda Blasting – Some surfaces and materials need more work, when it comes to cleaning them off. For those instances, we can implement the use of soda blasting. It is a milder alternative to sand blasting, with the same high quality effects.
Residential Pressure Cleaning – Let us restore and revitalize the appearance and condition of your exterior surfaces with our residential pressure cleaning. From siding to walkway, we can take care of it all.
Soft Wash Roof Cleaning – While some so-called pros still utilize pressure washing for rooftops, our experts know better. Our cleaning method is a softer and gentler method that will leave you with a superior clean that doesn't damage your roofing material in the process.
The bottom line is that we genuinely care about your home as much as you do and want to be a part of helping you improve the look and condition.
Boone's Number One Wood Restoration & Pressure Washing Service Provider
Taskmasters Wood Maintenance is the only name that you need to know for other services, such as wood restoration and pressure washing. Let us demonstrate to you how we have earned the impeccable reputation that we have. We look forward to having the chance to partner with you and provide you with nothing short of service excellence.
If you're looking for a professional dock cleaning contractor in Boone, then give us a call 252-266-9457 or complete our online request form.