Soda Blasting Cleaning Service Contractor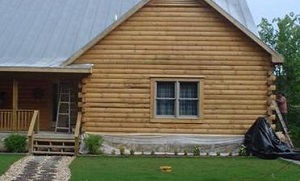 For anyone not already familiar with soda blasting in North Carolina, South Carolina or Virginia, this is a good time to learn more about it. This is the only way to determine if this is right for you. This process utilizes sodium bicarbonate (baking soda) and compressed air, in order to clean or restore a surface. In other words, this is a more moderate form of abrasive blasting.
In fact, during the restoration of the Statue of Liberty in the 1980's, soda blasting was utilized resulting in a truly impressive outcome. While not that many home improvement and home restoration contractors are able to offer this service, here at Taskmasters Wood Maintenance, we are proud to include this in our lineup of services.
This is a preferred method for wood restoration projects because it carries out a thorough cleaning process, in a non-destructive manner. Think of it as a milder alternative to sand blasting and a great way to clean, strip paint and varnish, take care of rust or graffiti removal, clean masonry and other important tasks. Just make it a point to only let a professional handle the job for you.
Finest in Soda Blasting Services in North Carolina, South Carolina & Virginia
If you are considering soda blasting and are curious about some of the additional benefits, here are some things that you should be aware of:
Soda blasting is also gaining popularity as people look for ways to make their projects more "green" or environmentally friendly. This can safely clean just about any surface you need, without damaging the surface, or the eco-system.
Basically, any coating can be safely removed and it will not hurt or cause damage to anything below the surface. This is the perfect method to use to reverse damage done to your home caused by weathering, as well as a variety of other environmental issues.
This is also an ideal approach for mold and fire or smoke damage. Soda blasting not only removes the unwanted top layer, it helps as much with deodorizing as it does cleaning.
The best thing that you can do is make it a point to meet with our pros in order to find out more. We will be able to advise you on whether or not this is the best approach to take, for whatever home restoration project you have planned.
Let Taskmasters Wood Maintenance Address Your Soda Blasting Needs
Taskmasters Wood Maintenance is ready and willing to help you with information about soda blasting, or any of the services we offer. We take great pride in our ability to offer exceptional workmanship and superior results. Give us a call today so that we can get started on your project.
If you are looking for a reliable company you can count on for proper soda blasting in North Carolina, South Carolina or Virginia, please call 252-266-9457 or complete our online request form.
Recent Articles
Important Dock Cleaning and Care Tips For North Carolina Homeowners - Boat docks are very common in North Carolina since so many homeowners have waterfront properties they want to enjoy to the fullest. Along with access to the water and the fun they can provide a North Carolina family, comes the responsibility of handling the dock cleaning and care in order to keep the structures sturdy, safe, and sound … Read More
Log Home Maintenance Tips For Summer - Your beloved log home will last for what seems like forever, but making sure the maintenance gets done this summer will help you to avoid problems like UV ray damage, insects, and water damage. While some maintenance tasks are better left to a ==log home maintenance professional, there are plenty of things you can do yourself to preserve and protect the wood exterior … Read More