Important Dock Cleaning and Care Tips For North Carolina Homeowners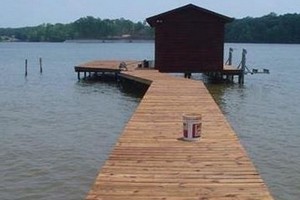 Boat docks are very common in North Carolina since so many homeowners have waterfront properties they want to enjoy to the fullest. Along with access to the water and the fun they can provide a North Carolina family, comes the responsibility of handling the dock cleaning and care in order to keep the structures sturdy, safe, and sound.
With regular TLC, the dock cleaning and care you give your boat dock will go a long way to preventing repairs down the road. Plus, it will ensure the dock stays fantastic looking for years longer. Yet, you can't just blast away at your dock with a pressure washer or you may just find yourself looking at a full-scale dock restoration project.
Here are a few important dock cleaning and care tips from our North Carolina log home restoration specialists at Taskmasters Wood Maintenance.
Keep Up With The Dock Cleaning
The best way to keep a wooden boat dock in good shape and avoid an early dock restoration expense is to keep it clean. The best way to clean a dock is to simply blow or sweep the debris off regularly and then pressure wash it as needed. This maintenance helps to preserve the wood by removing the elements that regularly work to destroy it.
Soft washing is the best technique to use for dock cleaning and maintenance because it uses an environmentally-safe cleaning solution rather than phosphates or chemicals. A low-pressure rinse of this cleaning solution is sprayed on, allowed to sit, and then rinsed away. While this method of dock cleaning may seem ineffective, it actually works better than blasting the wood with high-pressure water streams. Plus, it won't damage the wood or environment.
Regularly sweep or blow the dock to remove any debris.
Only use low pressure water for dock cleaning.
Give your dock a good seasonal cleaning, especially whenever you see algae or mildew that creates a slippery surface.
Clean all areas of the dock which can be reached including your boat house.
Protect The Environment When Cleaning Boat Docks
Did you know that one pint of motor oil can contaminate as much as one acre of water? This is why it's so important to make sure the dock cleaning is done correctly with the right environmentally-friendly cleaning solutions and wastewater capturing systems.
Also, it's important not to contaminate the water or land when working on your boat. If you decide to do some maintenance or repairs while your boat is parked in the boat house or at the dock, it's very easy to contaminate large bodies of water with what seems like a very small amount of motor oil, lubricant, or chemicals.
Avoid working on engines or working on boats while parked at the dock.
Recycle used motor oil rather than pouring it into the ground.
Only use environmentally-safe dock cleaning solutions.
Hire a professional if you don't have the means to comply with city or state dock cleaning regulations.
IIf you're looking for a North Carolina Dock Cleaning and Restoration Specialist, please call Task Masters Wood Maintenance at 252-266-9457 or complete our online request form.