Roof Cleaning Contractor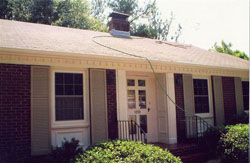 Keeping the exterior of your home is important and for more than just appearances. This is especially vital when it comes to your rooftop. However, many homeowners still make the erroneous decision to address their need for roof cleaning by using a power washing professional to get the job done.
Not only does this approach fail to provide a thorough and deep clean, it can pose a threat to your roofing material. Why damage your roof in the process of attempting to clean it? This is why so many savvy homeowners and wise consumes rely on our pros here at Taskmasters Wood Maintenance to provide them with soft wash roof cleaning services.
Your home is your biggest and most important asset, and your rooftop is what protects it from the elements. While it is important to keep it clean, it is also vital to do so in a manner that still promotes proper care. Let us show you the difference it makes to get proper soft wash cleaning for your roofing material.
Finest in Soft Wash Roof Cleaning in North Carolina, South Carolina & Virginia
Some things that you should be aware of when it comes to the current condition of your roof and necessary roof cleaning techniques:
Those black streaks that you see are not just unsightly, they are a living organism slowly destroying your rooftop. While eating away at the limestone in your shingles, your roof is slowly deteriorating. Getting a soft wash cleaning stops the process and prevents the problem from coming back for years to come.
In addition to slowly destroying your roof, rooftops with an ample amount of this algae can end up absorbing as much as 30% more heat. This is due to the dark black pigmentation. In addition to shingle deterioration, this also leads to higher energy bills and also makes your home less environmentally responsible.
One thing homeowners overlook is the fact that it is actually a health hazard to have fungus growing in such close proximity to the inside of your home. Exposure can happen outside the home, as well as inside. The spores can travel inside your home through ducts, or other poorly sealed areas. This is especially alarming for anyone who already has a respiratory related health condition, such as asthma or allergies.
Let Taskmasters Wood Maintenance Address Your Soft Wash Roof Cleaning Needs
Take care of your roof so that you can take care of your home. Let Taskmasters Wood Maintenance provide you with a safe, thorough and efficient approach to cleaning with our soft wash roof cleaning services. You are going to love the final results that we are able to provide for you.
If you are looking for a reliable company you can count on for soft wash roof cleaning in North Carolina, South Carolina or Virginia, please call 252-266-9457 or complete our online request form.
Recent Articles
Important Dock Cleaning and Care Tips For North Carolina Homeowners - Boat docks are very common in North Carolina since so many homeowners have waterfront properties they want to enjoy to the fullest. Along with access to the water and the fun they can provide a North Carolina family, comes the responsibility of handling the dock cleaning and care in order to keep the structures sturdy, safe, and sound … Read More
Log Home Maintenance Tips For Summer - Your beloved log home will last for what seems like forever, but making sure the maintenance gets done this summer will help you to avoid problems like UV ray damage, insects, and water damage. While some maintenance tasks are better left to a ==log home maintenance professional, there are plenty of things you can do yourself to preserve and protect the wood exterior … Read More