Log Home Maintenance Tips For Summer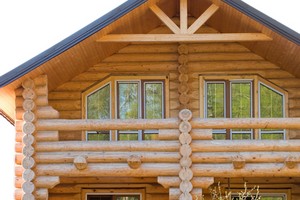 Your beloved log home will last for what seems like forever, but making sure the maintenance gets done this summer will help you to avoid problems like UV ray damage, insects, and water damage.
While some maintenance tasks are better left to a log home maintenance professional, there are plenty of things you can do yourself to preserve and protect the wood exterior.
Be sure to call a pro for everything if you can't safely access the different parts of your home's exterior. Here are a few tips about how to take care of the log home maintenance this summer from our North Carolina pros at Taskmasters Wood Maintenance.
Don't Delay Getting The Exterior Repairs For Your Log Home
Since your beautiful log home is made of wood, the surface should be well protected from the weather. When the wood gets damaged or ages without the regular maintenance a log home needs, more problems will snowball as time goes by. Moisture, insects, and even sunlight can damage a log home.
If you see fungus, algae, or moss on the wood, you'll need to make sure to repair the moisture damage to the log. This log home restoration process must be properly done and the logs should be resealed afterward. Any early sign of decay should be a concern this summer or else you'll wind up with extensive repairs to make.
Resealing Your Log Home
The exterior of log homes need to be resealed about every 2 years. Restaining needs to be done every 3 to 7 years. Keep in mind that a cheaper product won't last as long, so read the manufacturer's recommendations if you do it yourself or ask your professional how regularly the staining and sealing needs to be done.
Before resealing, you'll want to make sure the repairs have been done if there's damage. Once the surface is properly restored, a good quality sealant should be applied. If your log home needs to be restained as well as resealed, be sure to get it done because the stain also contains UV protective properties to protect the wood.
Trim Shrubs, Trees, and Foliage Away From Your Log Home
While plants and landscaping are beautiful, some thought needs to be put into the placement. Plants growing too close to your log home should be trimmed away regularly or permanently relocated.
If you're landscape includes shrubs, flowers, trees, or plants growing close to the house, the wood is at risk of damage. Tree branches and shrubs can scrape the siding, insects are more likely to come into contact with the wood, and critters are more likely to make your log home their refuge.
If you're looking for a Log Home Restoration Professional in Asheville, NC then give us a call 252-266-9457 or complete our online request form.