Why Soft Wash Roof Cleaning is the Better Alternative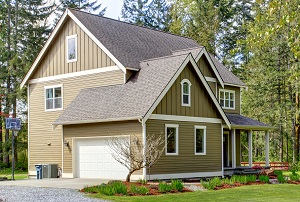 There are still too many self-proclaimed industry experts around North Carolina who rely on pressure washing when it comes to roof cleaning services. While it is important to take care of your home, including exterior cleaning, this task should be carried out a in manner that does not have the potential to cause damage. Your home is your biggest investment and most valuable asset. Don't let someone use a pressure washer when you hire them for roof cleaning in North Carolina.
Your roof is the first line of defense against the elements; it is essentially what helps safeguard your home, as well as the people and property inside. So it is of the utmost importance that you find a professional to work with, in order to take the best care possible of your roof, and all of your exterior surfaces. What we want to help educate you about is why soft washing is a much safer and smarter cleaning alternative.
What Softwashing Is & How Will It Help You?
You don't have to wait for your roof to turn black to get proactive about cleaning it up. However, once you begin to notice black streaks, the urgency to begin cleaning should be elevated. Those black streaks are actually a form of algae, and one that feeds off the limestone in your shingles which will slowly destroy them.
So, a high quality and professional roof cleaning job is the only solution – but why shouldn't it be pressure washing?
Pressure washing is an effective method to use in order to clean certain exterior surfaces, however your roof is not one of them. The high pressure, high velocity stream of water can damage shingles, even tearing them from the rooftop.
Pressure washing can also lead to trapped pockets of water under your shingles. This eventually turns into mold and then rot. What is the point of cleaning your roof but ending up damaging it.
Pressure washing in North Carolina is good for knocking debris off surfaces but that doesn't get to the root of a good cleaning. With proper professional cleaning techniques, the black streaks and harmful algae may not return for 5 or more years.
The bottom line is that soft wash roof cleaning in North Carolina is a gentler and milder approach that also leaves you with a better and more thorough clean.
Getting the Roof Cleaning in North Carolina That You Need
Taskmasters Wood Maintenance is the only name that you need to know, in order to get the high quality results that you want and deserve when it comes to roof washing in North Carolina, South Carolina and Virginia. We take this line of work seriously and are dedicated to helping you get the deep clean that your rooftop should have. Our goal is to help improve visual aesthetics, performance and longevity, with a safe but effective roof cleaning solution.
Do you need a professional you can trust for proper softwash roof cleaning in North Carolina? Call Taskmasters Wood Maintenance at 252-266-9457 or complete our online request form.