Understanding the Benefits of Log Home Restoration in North Carolina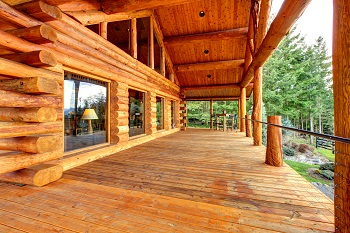 Your North Caroline home is your castle, even if it is a log cabin. A home is a person's biggest investment and most valuable asset, so you want to be able to protect it. Investing the time and effort into log home restoration in North Carolina will help to ensure that you get the performance and longevity that you should be able to.
The important first step to take is to find a log home and wood restoration expert, such as our crew here at Taskmasters Wood Maintenance. Unfortunately, if you end up entrusting someone that lacks the skill for this niche field, you could end up causing damage to the home, as opposed to protecting it. The goal is always to help preserve your home and ensure that it lasts for decades to come, if not more.
Gauging the Benefits
If you are still on the fence about whether or not you should move forward with service from your local North Carolina log home restoration pros, here are some things that you should know:
Obviously, the main focal point is to preserve the place you call home. Once this level of renovation work is carried out, you can expect to enjoy your improved home for years to come, without the need for further repairs.
Restoring your home means that you can continue to pass this real estate heirloom down for generations to come. We work on plenty of log homes that have already been passed down from one family member to another. Being able to help people preserve their log cabins and a piece of history is an honor.
Even if you are simply using this property as a real estate investment opportunity, you want to be able to maximize your income earning potential. The more restored the home, the more you can request for short or long term rentals. Plus, this will help to ensure that your home lasts through the wear and tear renters can put on a place.
Let's face it, there are no other styles of homes that have the natural beauty and rustic charm a log home does. No matter how weathered your home may be, we can help restore and revitalize it for you. Get in touch with us now in order to get started with your project.
The Name to Trust In for Log Home Restoration in North Carolina
Family owned and operated Taskmasters Wood Maintenance is ready, willing and more than capable of providing you with the finest in log home restoration in North Carolina, South Carolina and Virginia. We take great pride in the work that we do, which is how we have earned the flawless reputation that we have. Don't put off another minute longer the work that we should be doing to help salvage and improve your log home.
Do you need log home restoration services in North Carolina? Call 252-266-9457 or complete our online request form.