Log Home Restoration: Things I Know From Experience (I Live In One)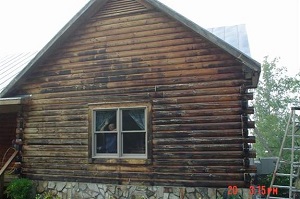 Log home maintenance is a vital part of the overall log home experience. Enjoying the beauty of the rustic setting is very satisfying, but to neglect or postpone regular maintenance could turn rustic into ruin. Too often the homeowner is too busy or maybe just not familiar with what is required to keep a log home protected from the harsh elements.
Periodic inspections should be performed on a regular basis and proper action taken when a problem is found. Unlike stick-built homes, logs that are machine milled, hand hewn, flat faced or beams all have one thing in common. Whether kiln dried or air dried, they will expand and contract when temperature and humidity change. Warping and twisting can occur causing joints to pull apart, sealants to fail and caulking to come loose as well as issues with stain adhesion. If not addressed, air and insects can easily enter the home causing not only a nuisance but making the home much less energy efficient. Moreover, water infiltration can cause mold and mildew problems, unsightly staining of the logs and most importantly, wood rot.
This can easily be avoided. The following check list can be used as a guide to help you keep your log home in good condition, weather tight and beautiful for years to come.
Walk around your log home and actually take notes ofproblems or potental problems. You may be surprised at the list you compile.
If possible, it is a good idea to get up on the roof to check for loose or damaged shingles. Check to see that plumbing vent pipe flashings are tight around the pipe and properly sealed to the shingles. Also, check chimney flashing, rain diverters, gutters and downspouts. Check gutters closely for proper drainage. Clogged and backed up gutters cause fascia boards to rot very quickly and is hard to spot from the ground. These issuse apply to all homes.
Take the time to examine the logs and siding closely. Look for any mildew growth. Where there is mildew, there is useually a moisture problem. Check to see if there are shrubs or tree limbs that can be trimed back to allow more sun exposure and air circlulation.
Check the logs, siding and trim for small holes and or sawdust. This is a sure indication of insect activity. Carpenter ants, wood borers, boring bees and a host of other insects can do thousands of dollars worth of damage in a realatively short period of time. Any holes should be saturated with an insceticide and caulked or pluged depending on the size of the hole. If your home has never had a borate treatment, it is highly recommended when the house is stripped and before a new sealer is applied, borate should be used to preserve the logs from rot and insects. This is not a long or hard process, but does require a knowledgable applacator and proper drying time.
Check corners, log seams, butt joints, window and door trim and other areas such as dryer vents, receptacle covers, HVAC lines and plumbing fixtures for caulking failure. Installed proprely, caulking will hold up well. The problem we find is that most of the time backer rod has not been used where needed and the caulking is either over applied or under applied and not "tooled" in the joint or seam properly. When applied incorrectly, even the slightest log movement will cause the caulk to seperate. The more the logs separate, the greater the possiblity of air, insect and water infiltration. Inspection and caulking of your log home should be a semi-annual project. If preformed on a regular basis, the average home could be kept weather tight in as little as a couple of hours. It will be time and money well spent!
Test the log finish. Splash some water onto the logs. Does it bead up and roll off, or does it soak into the wood? If it soaks into the wood, the finish is not doing it's job. A properly sealed log (or any type of wood) should repel water. If not, it is past time to recoat. If your home has gotten to this point, it is advisable to call a professional. An inspection and consultation will reveal the condition of your home and determine what is necessary to re-establish a protective coating.
What type of stain to apply to your home involves some thought. Depending on what is important to you, your personal preferences and the location of the home will dictate which product will best suit your needs. The best advise is to stay away from the big box store brands. There are a few that in certain circumstances will preform faily well, but in general, retail products will not hold up on logs.
Consult with a log home restoration professional. We do this everyday. We have seen products and contractors come and go. We have tried many different products and found some better than others. We only use products that I know work and use on my own log home. I love my work, but after working on my customer's homes, I really don't want to spend my time off working on mine replacing inferior products. If you have questions, give me a call, I love to help.
If you're looking for a professional log home restoration company in North Carolina, South Carolina or Virginia, then please call us at 252-266-9457 or complete our online request form.