Lake Lure Deck Restoration Contractor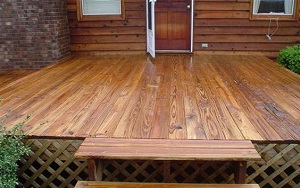 State of the art equipment knowledge and experience provide our pressure washing contractors with the tools to safely and effectively clean any surface. We can increase or decrease the pressure settings on our equipment to meet the needs of the current task at hand.
The very first impression that a visitor forms about your property is based on the appearance of the exterior. Most Lake Lure homes truly appreciate the value of great architecture and well-manicured landscaping. Often however homeowners give little consideration to the proper cleaning and maintenance of their exterior siding, gutters, exterior wood, masonry and concrete.
Even if you are not painting your home, you should be washing your house at least once a year. Our Lake Lure pressure washing contractors, can pressure wash your home to spruce up the exterior of the home and makes it look much cleaner then before.
Our Pressure Washing Services include:
Deck Pressure Washing
House Pressure Washing
Exterior Pressure Washing
If you're looking for a professional pressure washing contractor in Lake Lure, North Carolina, then give us a call 252-266-9457 or complete our online request form.