Rock Hill Deck Restoration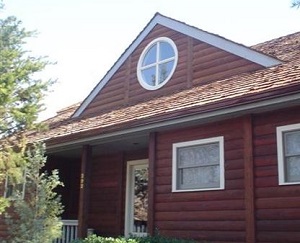 TASKMASTERS is an independent mobile deck restoration and pressure cleaning contractor serving residential and commercial customers throughout North Carolina, South Carolina and Virginia. We specialize in log home and deck restoration, exterior pressure washing, asphalt, slate and shake roof cleaning, and storefront and awning cleaning. We also perform small maintenance repairs from log replacement, floor rot to shingle repair.

As a family operated business, my wife and I believe that integrity and attention to detail are imperative to our success. We founded our business to address the needs of homeowners and businesses alike that were unable to find competent, dependable and trustworthy service providers. We believe we have met those needs and will continue to strive for professional results in all aspects of our services.
Taskmasters Wood Maintenance - Rock Hill Log Home Restoration
Being a penetrating stain, rather than leaving traffic ware patterns, drips, and lap marks, it completely absorbs into the wood leaving nothing to blister or peel. It simply wares out. Depending on location and weather conditions a typical application should last 4 to 5 years on vertical Rock Hill surfaces (walls and railings) and 2 to 3 years on horizontal Rock Hill surfaces (roof and decks).

If the homeowner wants a longer lasting finish, consideration should be given to semi-solid and solid stains. They will last longer but you lose the beautiful Rock Hill wood grain showing through. And they too are "film forming stains".

The tradeoff is, if you enjoy the natural wood grain look, the home will need more attention.
If the wood grain look is not as important and a more solid finish is acceptable, the home can be attended to less frequently.
Rock Hill Roof Cleaning
A general misconception among the Rock Hill public is the fact that discolored roofs are the result of age and deterioration that soon will require replacement. To the contrary, discoloration is the result of an air-borne fungus known as Gloeocapsa Magma. It can be identified as dark or black staining or streaks and is most noticeable on lighter colored roofs, but can be found on most any roof. Gloeocapsa Magma feeds on humidity, heat and some form of nutrient. The first two are climate related (southeastern US.) The nutrient can come from Rock Hill pollutants, fallen leaves and limestone found in the shingle itself.
Rock Hill Log Homes Newly Constructed
Newly constructed log homes are usually stained and sealed as soon as the "dry in" is completed or shortly thereafter. Nothing wrong with that right? Well here are a few things that should be considered before applying a beautiful natural wood finish to your brand new log home.

First, newly constructed homes are often built with "green logs." Green logs are logs that have been cut and still have high moisture content. Many log home manufactures "kiln dry" their logs which eliminates this problem but many do not. Green or wet logs as they dry will shrink causing checks or cracks to appear, as well as twisting and warping. The biggest problem with this is it causes windows and doors to not operate properly, seams to pull apart and butt joints to separate creating air and water leaks as well as a way for insects to enter the home.
The Services We Provide in Rock Hill, SC
If you're looking for a professional log home restoration contractor in Rock Hill, then give us a call 252-266-9457 or complete our online request form.