Roanoke Rapids Professional Log Home Restoration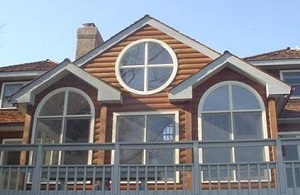 Log homes are beautiful here in Roanoke Rapids and surrounding areas of North Carolina. And we've helped many homeowners maintain their log homes with wood cleaning and restoration services for many years.
When one thinks of a log home, we often think of a home that glows with the warmth of lovingly treated wooden logs. The solidity, the glow, the amber color of the wood, all give comfort and a feeling of satisfaction. The rustic feeling of this type of home is cherished by many.
Yet there are times when a property isn't maintained and the logs crack, the wood fades to a dull gray and becomes dry and weathered looking. It's unfortunate, but the weather does take it's tole even on a log home if given enough time. That's why maintaining the woodwork of the home is so important.
The seal on your log home won't last forever, and the wood will need to be kept in good repair. This also means that the roof need to ensure good protection from the elements. This is one reason why we also roof shingle repairs for our customers as well, so we can ensure that your log home isn't just cleaned, but maintained to last the decades it's meant to last.
After all, no one thinks of an old, broken down shack when they are asked to envision a log home. There's a huge difference between a shack looking log home and one that has been properly maintained.
On the one hand, the shack and log home both are exposed to sand, sun, wind, salt, and the ocean, but while one is sealed against all that harshness, the other is left to degrade.
If your log home is in need of attention, or your wood deck looks gray and weathered, you don't have to let it go any longer. You have a company that is waiting for your call in order to help you take care of your log home or commercial property. We are available for:
Log Home Restoration
Wood Cleaning
Wood Restoration
Pressure Cleaning
Deck Restoration
Deck Cleaning
Roof Cleaning (softwash)
Commercial Cleaning & Sealing in Roanoke Rapids
When you own commercial property, you want to be sure it reflects your business well. When the decking is gray, boards need repair, siding is faded and dull, awnings are stained and dirty, well...your business just doesn't do you justice and will possibly keep potential customers from deciding to enter your establishment. Let us help you with your curb appeal.
At TaskMasters, we're not just about clean, we're about treating the surfaces appropriately to ensure your woodwork, trim, siding, roofing, and more are in great condition. When you need experts, you can trust our over 30 years of experience in the Roanoke Rapids and surrounding areas of North Carolina!
Commercial Cleaning
Storefront & Awning Cleaning
Painting
Soda Blasting
Media Blasting
Do You Need Wood Restoration Or A Pressure Cleaning in Roanoke Rapids, NC then give us a call 252-266-9457 or complete our online request form.