Morganton Pressure Washing Contractor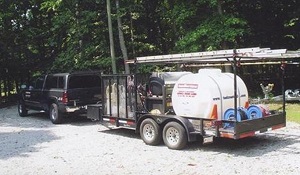 Over the years since pressure treated lumber come onto the market, most every home constructed including log homes has a deck of some type. Large or small, exotic woods or just the typical Southern Yellow Pine, decks have become very popular. From using them for family cook-outs, lounging or using them as a screened enclosure to keep out insects, decks are an asset that adds value to the home. That is if they are maintained.
We have all seen decks that have turned gray, mildewed and have warped, split and splintering handrails and decking boards. Sometimes they have been neglected to the point that wood replacement is the only option. Oftentimes however, many of these decks can be saved, restored and used for many years to come.
If you have a log home or a wooden deck you may wish to have it restored to its like new condition. We can help you, we have the tools and the experience to restore any worn wooden surface. Call us today and see what we can offer you.
If you're looking for a professional pressure washing contractor in Morganton, North Carolina, then give us a call 252-266-9457 or complete our online request form.