Jefferson Pressure Washing Contractor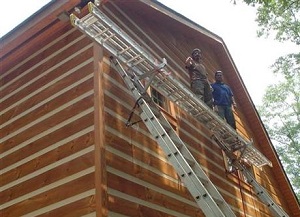 There are many aspects to Log Home Restoration. Stains, sealers, caulking and chinking are all related to the preservation of your log home. Stains and sealers cover the surface of the logs and other wood to form a barrier from the harsh elements of rain, wind and UV damage. Caulking is used to make the home weather tight by filling gaps, checks, butt joints, window and door trim. Chinking is used to fill the large spaces between the logs themselves. All of these products are used in your log home restoration as a means to help preserve the wood from the elements.
Another means of log home preservation is applying a Borate treatment to the wood. This method of preservation not only protects the wood from weather related issues, but also fungal decay and probably more importantly, it is an excellent insecticide. Borate combined with zinc is also used as a flame retardant
Wether you are wanting to restore your deck or your log home, we have the tools to fully retore your wooden deck or your log home. Call use and see what services we can provide you!
If you're looking for a professional pressure washing contractor in Jefferson, North Carolina, then give us a call 252-266-9457 or complete our online request form.