Hardy Pressure Washing Contractor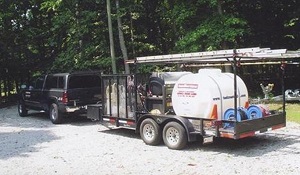 Removing Gloeocapsa Magma (brown, black stains) mildew and lichens by Roof Cleaning Professionals is accomplished generally by using one of three methods. There is some debate as to which of these methods is the proper technique. According to the A.R.M.A. (Asphalt Roofing Manufactures Association) and G.A.F. the largest domestic shingle manufacture , a chlorine solution is recommended as the safest and the most effective cleaning process for asphalt shingle application.
Taskmasters Wood Maintenance utilizes a Chlorine, TSP and other propitiatory additives to assure that not only the roof is cleaned but also to protect it from future algae growth for at least two years.
Our NO PRESSURE Soft Wash system allows us to apply the solution in a safe, efficient and effective manner often times without having to manually walk the roof. If the situation dictates that we must access the roof on foot, we first rig all necessary safety lines, body harness and safety roofing shoes. We realize that accidents can and do happen, so we take every precaution not only for our best interest but also in the interest of the homeowner.
The other methods that are widely used are Sodium Hydroxide solutions and Power Washing.
For obvious reasons, I don't think we need to discuss Power washing an asphalt shingle roof using pressure of up to 3500 psi. It suffices to say that if the homeowner is approached and offered this method to clean their roof, the best advise would be to say "No thank you".
Sodium Hydroxide on the other hand is an excellent cleaner and degreaser. We use it regularly to strip log homes, decks, docks and also to clean and remove grease from dumpsters, drive thrus and many other grease soiled areas.
The problem with this method is that being a degreaser, it also breaks down the asphalt in the shingles! I have seen this first hand. While the rinse water was running off the roof it looked like Coka Cola or coffee.
It was the actual petroleum from the asphalt being depleted from the shingles themselves. With the asphalt softened, the granulars are loosened and the end result is a deteriorated shingle.
Taskmasters offers roof cleaning services to prolong the life of the roof by removing the algae, mildew and lichens. Not by removing the asphalt.
If you would like more information on roof cleaning or other services, give us a call, we like to help.
If you're looking for a professional Pressure Washing Contractor in Hardy, then give us a call 252-266-9457 or complete our online request form.