Fontana Village Professional Log Home Restoration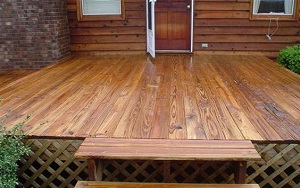 When a person is attracted to the lifestyle and comfort of owning a log home, it's not all about the rustic appearance of the home. A beautiful log home has indeed been weathered with age, seasoned by the years of elements that work to smooth the wood into a unique, solid structure that provides protection from the outdoors.
Yet at the same time, log homes can easily become weathered and broken down looking if the wood is allowed to become completely exposed to the elements. When you think of a log home here in Fontana Village, you're sure not thinking of a weathered shack built out of wood and logs.
Unfortunately, many log homes all over the country have been poorly maintained and eventually take on the look of an old shack with weathered wood surfaces, falling shingles, and posts that are cracked or failing.
At TaskMasters, we help log home owners keep their cherished log homes in top condition so that through time, their home is properly sealed and the wood is properly treated to last their family for generations to come.
We know the difference between rustic and old, and we want your log home to look and feel as it should...like a restful retreat where you can still be proud to show it off to your friends and family. We know how to take care of the wood in your log home, and can help you to keep it looking fresh and as gorgeous as it should be. Our professional services include:
Log Home Restoration
Wood Cleaning
Wood Restoration
Pressure Cleaning
Deck Restoration
Deck Cleaning
Roof Cleaning (softwash)
Commercial Cleaning & Sealing in Fontana Village
Your commercial property can revitalized with our pressure washing services. Our deck cleaning, roof cleaning, awning cleaning, and storefront cleaning services will restore the surfaces of your commercial property, making them look new again. A proper clean is vital prior to resealing or restoring the woodwork on your property.
Surfaces that can be sealed, like the wood decking and possibly your building siding, should be sealed properly as well. Our professional services will ensure the surfaces are sealed with appropriate materials that are meant to be used for that specific material. With our expertise, you'll not have to worry about the finish being wrong for your woodwork.
Commercial Cleaning
Storefront & Awning Cleaning
Painting
Soda Blasting
Media Blasting
When you need someone who knows everything there is to know about wood, you want Taskmasters. We began our wood maintenance and pressure cleaning expertise long ago and have since provided professional wood restoration services to North Carolina, South Carolina, and Virginia log home owners and commercial property owners.
Do You Need Wood Restoration Or A Pressure Cleaning in Fontana Village, NC? GIVE US A CALL: 252-266-9457 or complete our online request form.