Welcome to Taskmasters: An Edisto Beach Deck Restoration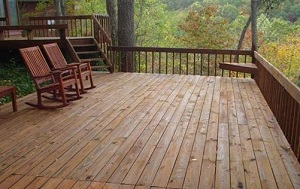 TASKMASTERS will schedule our deck restoration and cleaning services to accommodate your needs and to avoid business interruptions. Adhering to strict safety guidelines and regulations, we conform to all city, county and state ordinances and have all necessary OSHA approved safety equipment.
Taskmasters - Edisto Beach Log Home Restoration
Most Edisto Beach log home owners, by no fault of their own, are not fully aware of all that is required to properly maintain their Edisto Beach homes. Sun, wind, water and insects are a constant threat to the integrity of the home. While most log homes are finished with semi-transparent stains to reveal the beauty of the wood, compared to semi solid and solid stains, they offer the least protection from the elements. It must be taken into consideration when choosing a new finish what is important to the homeowner. If the Edisto Beach log home is the permanent residence, then the owner has the ability to perform routine inspections of the logs, trim, caulking and chinking and overall appearance from time to time. This will allow more options when deciding what type of sealer to apply.
Edisto Beach Exterior Painting
Exterior house painting can make your home look great. You can change the color of your Edisto Beach home, decks, shutters and trim to really make it "pop". You can personalize it by adding as much detail as you like, but appearance is not everything.

Painting your Edisto Beach home is first about protection. And the best protection comes with the correct application of the paint. But, before there can be proper paint application, there has to be proper paint preparation.
Power Washing Decks
Painting Home Exterior
Exterior Power Washing
Home Restoration Services
Power Washing a Roof
Washing Decks
Roofing Cleaning
Cleaning Decks
Cleaning Roofs
Cleaning a Roof
Deck Washing
Deck Restoration
Edisto Beach Log Home Restoration
Log home maintenance is a vital part of the overall log home experience. Enjoying the beauty of the rustic setting is very satisfying, but to neglect or postpone regular maintenance could turn rustic into ruin. Too often the homeowner is too busy or maybe just not familiar with what is required to keep a log home protected from the harsh elements.

Periodic inspections should be performed on a regular basis and proper action taken when a problem is found. Unlike stick-built homes, logs that are machine milled, hand hewn, flat faced or beams all have one thing in common. Whether kiln dried or air dried, they will expand and contract when temperature and humidity change. Warping and twisting can occur causing joints to pull apart, sealants to fail and caulking to come loose as well as issues with stain adhesion. If not addressed, air and insects can easily enter the home causing not only a nuisance but making the home much less energy efficient. Moreover, water infiltration can cause mold and mildew problems, unsightly staining of the logs and most importantly, wood rot.
The Services We Provide in Edisto Beach, SC
If you're looking for a professional pressure washing contractor in Edisto Beach, South Carolina, then give us a call 252-266-9457 or complete our online request form.