Chester Deck Restoration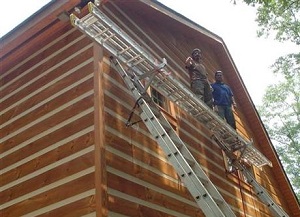 TASKMASTERS started out doing anything and everything to fill the days. From painting to minor plumbing repairs to rot repair to house washing. Whatever it took! (Hence the name Taskmasters). We soon found our niche in the deck restoration and pressure cleaning aspects of the business. Our work now consists of about 80% log and deck restoration and the remaining 20% residential and commercial pressure cleaning
Taskmasters - Chester Log Home Restoration
For those of us that enjoy living in a Chester log home, it's not only the true American dream but, there is something fulfilling about waking up with the natural smell of the wood. The massive logs and beams give a sense of safety and security. And just the rustic nature takes you away from the hustle and bustle of the busy Chester lifestyle many live today.
Chester Pressure Cleaning
State of the art equipment knowledge and experience provide our Chester pressure washing contractors with the tools to safely and effectively clean any surface. We can increase or decrease the pressure settings on our equipment to meet the needs of the current task at hand.
The very first impression that a visitor forms about your property is based on the appearance of the exterior. Most Chester homes truly appreciate the value of great architecture and well-manicured landscaping. Often however homeowners give little consideration to the proper cleaning and maintenance of their exterior siding, gutters, exterior wood, masonry and concrete.
Power Washing Decks
Painting Home Exterior
Exterior Power Washing
Home Restoration Services
Power Washing a Roof
Washing Decks
Roofing Cleaning
Cleaning Decks
Cleaning Roofs
Cleaning a Roof
Deck Washing
Deck Restoration
Sealing A New Chester Log Home
Newly constructed log homes are usually stained and sealed as soon as the "dry in" is completed or shortly thereafter. Nothing wrong with that right? Well here are a few things that should be considered before applying a beautiful natural wood finish to your brand new log home.
First, newly constructed homes are often built with "green logs." Green logs are logs that have been cut and still have high moisture content. Many log home manufactures "kiln dry" their logs which eliminates this problem but many do not. Green or wet logs as they dry will shrink causing checks or cracks to appear, as well as twisting and warping. The biggest problem with this is it causes windows and doors to not operate properly, seams to pull apart and butt joints to separate creating air and water leaks as well as a way for insects to enter the home.
The Services We Provide in Chester, SC
If you're looking for a professional pressure washing contractor in Chester, South Carolina, then give us a call 252-266-9457 or complete our online request form.