Burnsville Deck Restoration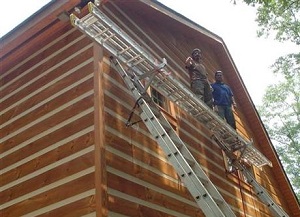 One Burnsville Deck Restoration option is to blast the wood with high-pressure water, with or without cleansers mixed in. Pressure washing does remove the gray from the wood, but can also damage its surface easily. A lot of water is needed for this technique, and it's important to apply the right amount of pressure and have the right kind of cleaning solution. Do-it-yourselfers must guard against applying too much pressure. Pressure washing apparatus rented out to Burnsville homeowners are usually designed to spew out water at 1750 to 3500 pounds per square inch (psi), which is fine for cleaning concrete and peeling off old paint. However, these pressure washers are way too forceful for wood. The ideal amount of pressure is between 500 and 800 psi. It is at this pressure level that experienced contractors work on wood using the specially adjusted wands of their pressure washers.
TaskMasters offers a full service, highly skilled Burnsville deck resoration contractors, that have been trained to perform work safely, professionally, and with regard to customer satisfaction.
If you're looking for a professional deck cleaning contractor in Burnsville, then give us a call 252-266-9457 or complete our online request form.