Are You Looking For a Bristol Deck Restoration Company Today?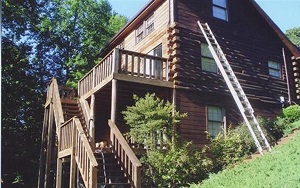 TASKMASTERS is an independent mobile wood restoration and pressure cleaning contractor serving residential and commercial customers throughout North Carolina, South Carolina and Virginia. We specialize in log home and deck restoration, exterior pressure washing, asphalt, slate and shake roof cleaning, and storefront and awning cleaning. We also perform small maintenance repairs from log replacement and floor rot to shingle repair. At TASKMASTERS, we will schedule our restoration and cleaning services to accommodate your needs and to avoid business interruptions. Adhering to strict safety guidelines and regulations, we conform to all city, county and state ordinances and have all necessary OSHA approved safety equipment.
Taskmasters - Bristol Log Home Restoration
At TaskMasters, we are trained in wood restoration and doing it properly. Our purpose is to provide quality workmanship in a professional manner and to help educate our Bristol customers on the log home restoration and cleaning process. We take the time to explain the options available and the procedures needed to achieve your Bristol cleaning maintenance and restoration needs. We do a detailed job analysis and will answer any questions to better help you understand any recommendations. Not only can we handle your log home restoration and cleaning needs, but we can save your Bristol deck or dock. We will evaluate the wood and explain what options are available. We will go through each process step by step so you can make an informed decision that best suits your needs.
Bristol Wood Restoration
As a family operated business, we that integrity and attention to detail are imperative to our success. TaskMasters was founded to address the needs of Bristol homeowners and businesses alike that were unable to find competent, dependable and trustworthy service providers. We believe we have met those needs and will continue to strive for professional results in all aspects of our services.
We are licensed, insured and certified contractors for Wolman, Flood and Penofin wood restoration products as well as qualified applicators for Perma-Chink Systems, a nationwide supplier of log home maintenance products. We use only contractor grade, environmentally friendly cleaning compounds, sealers and finishes as opposed to store bought bleaches and detergents. So you can have peace of mind knowing that our company will handle all your Bristol wood restoration and cleaning needs with the utmost quality and environmental care.
Power Washing Decks
Exterior Painting
Log Home Restoration
Wood Restoration
Roof Cleaning
Deck Restoration
Commercial Cleaning
Pressure Cleaning
Media Blasting
Soda Blasting
Dock Cleaning
Deck Cleaning
Bristol Wood Staining
Most log home owners, by no fault of their own, are not fully aware of all that is required to properly maintain their homes. Sun, wind, water and insects are a constant threat to the integrity of the home. While most log homes are finished with semi transparent stains to reveal the beauty of the wood, compared to semi solid and solid stains, they offer the least protection from the elements.
Of course, no stain, sealer or any other finish will hold up if the logs are dirty, have mill glaze or are green and have high moisture content. Proper preparation is paramount. There is no other way to obtain proper absorption and adhesion of any sealer in order to provide a long lasting finish without first having a clean and dry log. If you are considering staining or restaining your log home, deck or other wooden structure, contact Taskmasters for all your residential exterior cleaning needs. We provide excellent pressure washing services that will have your home or deck ready for staining in a timely manner.
The Services We Provide in Bristol, VA
If you're looking for a professional log home restoration contractor in Bristol, then give us a call 252-266-9457 or complete our online request form.