Need an Abingdon, VA Deck Restoration Company?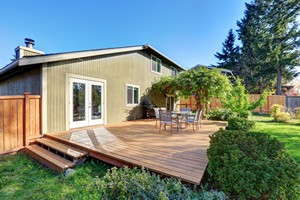 Having an outdoor living space for your Abingdon home is a wonderful way to enjoy your own yard and the great outdoors. However, one of the responsibilities that comes with having this type of feature is making sure you have a professional to address your need for deck restoration.
Just having a deck is one thing, taking proper care of it is quite another. Let Taskmasters Wood Maintenance help you restore your decking so you can get peak performance and maximum longevity from it.
Soft Wash Roof Cleaning For Your Abingdon Home
Power washing, pressure washing, soft washing? What's the difference? As the name implies, soft washing is the right approach to take to when you want a softer approach to cleaning more delicate exterior surfaces, like your roofing.
You want your house to look its very best and getting the exterior clean is a good way to make that happen. However, for areas like the roof, a more gentle cleaning approach must be used.
Soft washing prevents some issues that can develop as a result of using a high power pressure washer. For instance, water under the shingles which leads to rot.
This is an ideal way to clean certain types of materials that are softer and more easily damaged, such as softer woods.
Keep in mind, those dark streaks that you see on your roof are not just unsightly, they are causing damage. This is actually a type of fungus that feeds off of the asphalt shingles
For the best soft wash, deck restoration and other related service types for your Abingdon home, you can count on our family-owned and operated team.
If you're looking for a professional log home restoration contractor in Abingdon, then give us a call 252-266-9457 or complete our online request form.