Waynesboro Wood Restoration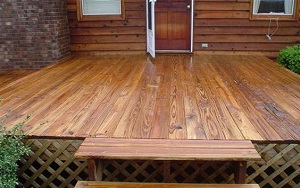 Deck staining is just part of the required maintenance of your beautiful Waynesboro deck. We depend on them to put up with a lot including harsh elements and weather conditions. In constant war with the elements, our decks endure the worst. By maintaining it with a quality deck stain , you will have the peace of mind knowing that costly repairs aren't looming on the horizon.
Water is a deck's worst nightmare. Without proper deck staining, we run the risk of the wood planks becoming rotten, covered in mildew, warping, and cracking. The list doesn't end there, either. From cracking to nail pop, the longer we neglect our deck, the more it becomes not only unsightly but dangerous. Deck staining in Waynesboro is really our only solution to continue to seal out the moisture that is responsible for all of this. And when it comes to the best solution, it's best to turn to a professional Waynesboro wood contractor.
If you're looking for a professional log home restoration contractor in Waynesboro, then give us a call 252-266-9457 or complete our online request form.