Blacksburg Deck Restoration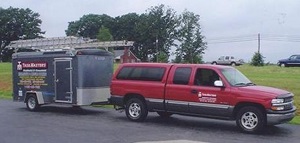 As a family operated business, at TaskMasters we believe that integrity and attention to detail are imperative to our success. We founded our log home restoration business to address the needs of homeowners and businesses alike that were unable to find competent, dependable and trustworthy service providers. We believe we have met those needs and will continue to strive for professional results in all aspects of our services. From log home restoration to deck and dock pressure washing, we will do our best to provide you with top quality, professional cleaning and restoration services.
Taskmasters - Blacksburg Log Home Restoration
TaskMasters specializes in Blacksburg log home and deck restoration, exterior pressure washing, asphalt, slate and shake roof cleaning, and storefront and awning cleaning. We also perform small maintenance repairs for our Blacksburg customers, from log replacement and floor rot to shingle repair.
We are licensed, insured and certified contractors for Wolman, Flood and Penofin wood restoration products as well as qualified applicators for Perma-Chink Systems, a nationwide supplier of log home maintenance products. We use only contractor grade, environmentally friendly cleaning compounds, sealers and finishes as opposed to store bought bleaches and detergents. So you can have peace of mind knowing that our company will handle all your Blacksburg wood restoration and cleaning needs with the utmost quality and environmental care.
Blacksburg Roof Cleaning
At TaskMasters, we are trained in wood restoration and doing it properly. Our purpose is to provide quality workmanship in a professional manner and to help educate our Blacksburg customers on the log home restoration and cleaning process. We take the time to explain the options available and the procedures needed to achieve your Blacksburg cleaning, maintenance and restoration needs. We do a detailed job analysis and will answer any questions to better help you understand any recommendations. 
Power Washing Decks
Exterior Painting
Log Home Restoration
Wood Restoration
Roof Cleaning
Deck Restoration
Commercial Cleaning
Pressure Cleaning
Media Blasting
Soda Blasting
Dock Cleaning
Deck Cleaning
Blacksburg Residential Pressure Cleaning
Your log home is a large investment. Spending the time and the money to maintain it is also an investment. Most people would not go to a "big box" store and buy a can of spray paint to re-paint their car. Yet all too often, the "off the shelf" retail stains are bought and used to re-stain their log homes. This is one instance in which "you get what you pay for!"
Log home restoration and maintenance is just a part of the log home experience. Understanding maintenance procedures and implementing a maintenance program can alleviate potential underlying problems such as wood rot, mildew problems, failing caulk and chinking as well as making sure your log home keeps that beautiful rustic look and feel for many years. The bottom line: Do it right the first time, have a good maintenance plan and have a knowledgeable and trustworthy contractor you can depend on.
The Services We Provide in Blacksburg, VA
If you're looking for a professional log home restoration contractor in Blacksburg, then give us a call 252-266-9457 or complete our online request form.