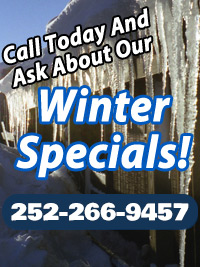 Log Home Restoration: Two Of The Most Asked Questions from New Log Home Owners

The following log home restoration questions are two of the most often asked by new log home owners. By new I mean, new to them and may or may not be a newly constructed log home. Oftentimes the owner or future owner knows very little about a log home except they love the look, they want one and what they have read in a log home magazine. {Read More}

---
Sign Up for our monthly newsletter containing around the house tips
What Our Clients Think
"Thanks again! The logs have never looked that good before and the deck is unbelievable to say the least. "
Kitty & Doug
---
Log Home Restoration: Knowing When To Media Blast; the Good, the Bad, and the Dusty
Log home restoration consists of many different techniques and procedures. One procedure that may not be familiar to some log home owners is "media blasting." Just the name sounds pretty aggressive and may cause concern. However, used properly it is the best method of removing certain coatings and finishes.
Media blasting is similar to sand blasting in that it is a system that uses compressed air to force a particular media through a hose onto a surface with enough force to remove a coating or other material from the surface being cleaned. Different media reacts differently depending on the surface being cleaned and the coating being removed. Sand being one the most abrasive media is generally used for more industrial applications such as rust removal from steel, epoxy paints and other hard surfaces. Sand is not used as much as it once was because of the safety issues involved. Sand is made up of Silica, a known cancer causing agent. Therefore other types of media that have become available are preferred and are widely used.
In the case of log home restoration, media blasting has become an acceptable way of cleaning and removing some finishes from the logs and other surfaces. As with any type of cleaning or stripping, care must be taken in order to not change the profile or damage the surface of the logs or other substrate.
There are many different types of blasting media being used on the market. The most popular for log home restoration is crushed corn cob, crushed glass or glass beads and sodium bicarbonate (baking soda.) Each has its place and purpose.
Corn cob is probably the most popular and readily available. It works well at removing tough finishes without harming delicate surfaces such as vinyl trim, aluminum or glass. It also can be reclaimed, sifted and reused a few times before becoming spent and of no value. The disadvantage of using corn cob is, one its cost. Like other food products, corn is getting expensive, especially when using a couple of thousand pounds on a log home. And two, it probably creates the most dust. Although any finely ground media will be dusty, corn cob being so light and less dense, creates far more than most others. Also, being the dustiest means that it will get in every nook and cranny in and around your log home. It would be wise to ask whoever you get to do your blasting what precautions will be taken to eliminate as much dust as possible. Just as a side note, some dust will get inside of the home no matter what is done to prevent it so be ready to do some spring cleaning. There are a few ways however to help reduce the infiltration.
Another blasting media being used is sodium bicarbonate, or baking soda. This is used with good results especially if there is mold and mildew or smoke damage. It is the most expensive of the three and therefore generally used for the aforementioned applications. Unlike corn cob, soda can not be used over because it breaks down to the point that it becomes ineffective, again making it more expensive. It is like corn cob in that it is much forgiven and will not damage the underlying substrate. It is so forgiven that it can be used to remove paint from glass and plastic, but it has to be done properly.
Crushed glass or glass beads are a finely ground recycled glass that is the texture of fine sand. It does not cut the skin if handled, but can be harmful if ingested or inhaled so safety equipment must be used as with any media. Glass, unlike soda and corn can damage the surface and the substrate particularly wood and especially soft wood such as cedar or white pine. The utmost care must be taken so as not to gouge or pit the wood. Although non-abrasive, glass is very hard and sharper than corn and soda thereby making it much more aggressive. The slightest contact with a window or door will damage it beyond repair making the contact area look like a frosted glass pane. Costing the least, it does clean well and remove stubborn coatings. Glass is the least dusty and can be recycled a few times if sifted. Overall it has the fastest cleaning ability due to the sharpness and density making it a cost effective method of stripping.
Media blasting using these three products performs well at removing latex stains and paint as well as some of the tougher "film forming" oil stains and sealers. They are eco-friendly and biodegradable making it easy to dispose of once spent. Usually it can be raked into the soil or the bulk can be gathered up and spread in an out of the way area where a few good rain showers will dissolve or dilute it.
Although some sanding may be involved, media blasting compared to sanding alone or using other latex strippers that usually contain methylene chloride, known to cause cancer, has become the best method of removing finishes that the typical oil strippers will not remove.
Log home restoration consists of many techniques and procedures. Media blasting is one that has found it's place in the log home restoration process. Knowing when to media blast depends on the finish on the log home. Knowing how to media blast depends on not only the proper technique, media, air pressure, and nozzle size, but also a knowledgeable operator. This is one procedure that you will get what you pay for.
Make sure you know what you are paying for.
If you're looking for a professional soda blasting contractor in North Carolina then please give us a call
1-252-266-9457

or complete our online request form.